Strategies to Relieve Suffering at End-of-Life (STRS-EOL): A longitudinal qualitative study of healthcare policy and nursing practice.
Team receives a five-year CIHR project grant to better understand the longitudinal development of strategies to relieve suffering at end-of-life in the Canadian context.
Below is a summary of the proposed project, details on the team members, and contact information if you are interested in learning more.
In 2016, Canada introduced a radical change to legalize medical assistance in dying (MAiD). As of October 2018, 6,749 Canadians had received MAiD, yet we know very little about how the new law is being implemented. Further, new legislation is being proposed that expands the eligibility criteria for those eligible for MAiD.
Our research to date suggests significant variations in both policy and practice of MAiD across Canada. We have also found that the introduction of MAiD is affecting end-of-life decision making, including how other strategies to reduce suffering are being used. These strategies include palliative care (PC), voluntarily stopping eating and drinking (VSED), and palliative sedation (PS). We urgently need to better understand the impacts of the new law and the effects that its implementation are having on patients, families, and health care providers as they grapple with the resulting complex moral issues and choices – and lack of choice.
Building upon our research conducted over the past three years, the goal of this research is to gain a thorough understanding of the developmental trajectory over an eight-year period of policy and practice related to MAiD and other STRS-EOL as part of an integrated approach to end-of-life.
Photo by Manouchehr Hejazi on Unsplash
Study Objectives
Assess the development of STRS-EOL policies, practices, and practice supports through two rounds of data collection in which we collect key documents from, and conduct key information interviews with, policy-makers, regulators, and decision-makers responsible for end-of-life care.
Explore the evolution of nurses' experiences with STRS-EOL through semi-structured qualitative interviews.
Analyze how the everyday work of nurses who care for dying patients is shaped by the social, gendered, geographic, and administrative spaces in which STRS-EOL are enacted through document analysis, semi-structured qualitative interviews, and non-participant observation in contexts where nurses do end-of-life work.
Study Outputs
We are creating unique and highly-sought data to track and compare the developmental trajectory of STRS-EOL across English-speaking health regions over time.
We will support wide-spread uptake of STRS-EOL best practices.
We will support improved practitioner well-being and moral development.
Best Brains Exchange (BBE)
CIHR's Best Brains Exchange (BBE) program is a knowledge mobilization program. From May 31-June 1st 2023, a BBE was facilitated by the Canadian Institutes of Health Research in collaboration with representation from British Columbia Ministry of Health Medical Assistance in Dying Operational Committee, British Columbia's Provincial Health Services Authority, Vancouver Island Health Authority, Vancouver Coastal Health Authority, Fraser Health Authority, Interior Health Authority, Northern Health Authority, and the University of British Columbia. The title was: "Optimizing Policy and Procedures and Enabling Research to Optimize the Care of Patients Requesting Medical Assistance in Dying for Whom Death is Not Reasonably Foreseeable ('Track 2')."
The BBE examined current evidence and brought together stakeholders from multiple sectors to support the development and implementation of systems that ensure equitable, safe, sustainable, high-quality, efficient, appropriate and ethical care centred on patients requesting medical assistance in dying for whom death is not reasonably foreseeable (Track 2). 
The full report is available here: MAID Track 2_BBE Final Report – July 27 2023 
MAiD Reflective Guide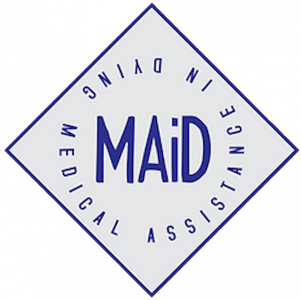 We have developed a MAID reflective guide for nurses. You can visit the site at this link: https://www.maidreflectiveguide.ca/
Recent Publications
Pesut B, Wright DK, Thorne S, Hall MI, Puurveen G, Storch J, Huggins M. What's suffering got to do with it? A qualitative study of suffering in the context of Medical Assistance in Dying (MAID). BMC Palliat Care. 2021 Nov 11;20(1):174. doi: 10.1186/s12904-021-00869-1. PMID: 34758799; PMCID: PMC8582137. https://pubmed.ncbi.nlm.nih.gov/34758799/
Pesut B, Thorne S, Wright DK, Schiller C, Huggins M, Puurveen G, Chambaere K. Navigating medical assistance in dying from Bill C-14 to Bill C-7: a qualitative study. BMC Health Serv Res. 2021 Nov 4;21(1):1195. doi: 10.1186/s12913-021-07222-5. PMID: 34736463; PMCID: PMC8567982. https://pubmed.ncbi.nlm.nih.gov/34736463/
How You Can Participate
If you are a healthcare leader or nurse and would like to participate in this project, or would like more information about this project, contact barb.pesut@ubc.ca.
Suffering inevitably provokes a range of emotions and reflections. As part of our team reflective process we have invited creative works that speak to suffering. We invite you to enjoy these creative works here.
Research Team